Mahalo to all students who have contributed creative pieces of all sorts to our Nā Leo Literary Review, which had received an array of poetry, digital art, and photography during the fall 2022 semester. Creative works will be displayed on our online platforms. The Na Leo Literary Review had a couple of engaging events this semester and will continue to engage students with the campaign "Engage In Art" throughout the spring semester. Student, you are encouraged to enter your creative pieces for a chance for publication and cash award! For now, here's a recap of the things that took place this fall.
The Fall 2022 creative winners are as follows:
September 2022
Maile Fahnstock, "The Birth Of A Nomad" Poem
October 2022
Celina Day, "Spectral World" Digital Art, and Tara Zamani, "Claws Caught In A Cage" Poem.
November 2022
Kenneth Alba "Through The Ashes"
Sean Macy "In Honor of Kapaemahu" Digital Art, and Lehualani Tomas Yarborough "Art 113" Sketches.
We are currently in December, winners will be announced and updated.
Engage In Art Open Mic Session
An open mic session event was held on November 30, 2022 for the Engage In Art Campaign. The event took place in the student lounge from 12-1pm. Participating students enjoyed free pizza and juice as the audience enjoyed the entertainment. The following is footage of the different students who took turns reciting poetry.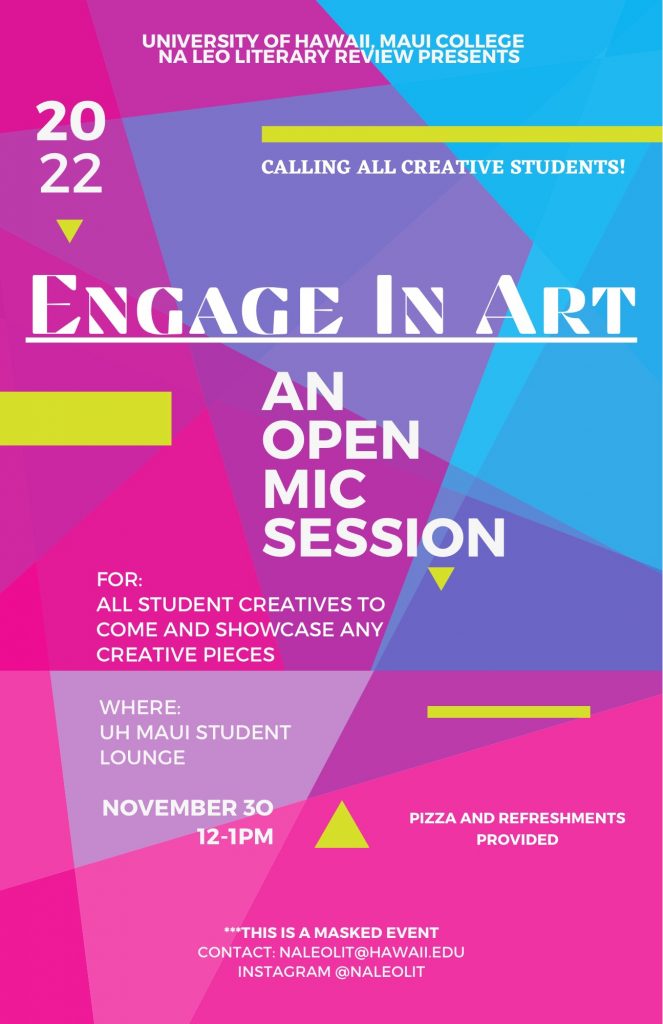 Student Aysha Jarnesky delivered various poetry in honor of a current annual campaign, "Orange The World, #16 days of Activism" which is hosted by UN WOMEN and began on November 25,2022. This campaign seeks to raise awareness to end violence and oppression for women world wide.
Lastly, an event was held on December 1, 2022 in the UHMC library. The event premiered a recent undertaking of two Kānaka sisters, one of which previously attended UHMC and currently attends UH Manoa. The two sisters put their creative minds together to write, direct, choreograph, and produce a thrilling film! The short film, which depicts 8 minutes of a modern contemporary dance visual of the ancient mo'olelo of Pele and Hi'iaka, also premiered at the Hawaiia Film Festival, and will continue to show at film festivals around the mainland.