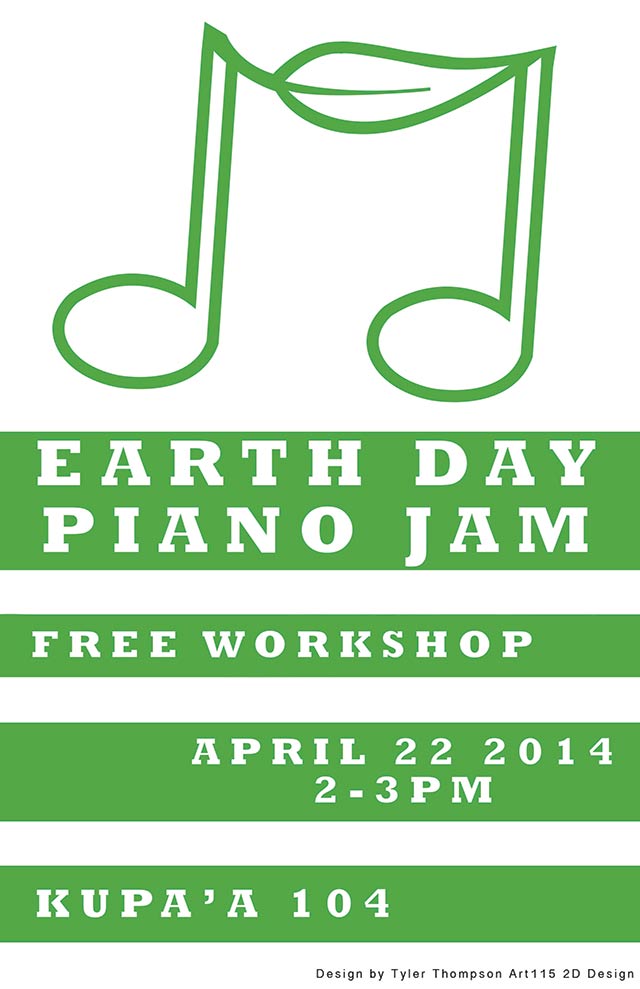 A picture paints a thousand words. How would you assemble images and text to raise awareness of an upcoming event that is free to the public and gives you a taste of what it's like to play piano and make music with others? What do you need to capture interest, ignite desire, and commit to participating in such an event?
This was the challenge given to the eight students of Harvey Reed's Art 115 2D Design Project Class, using Adobe Photoshop and photos taken by Reed's Art 107D Photo Class.
Numerous scientific studies have established universal benefits of learning a musical instrument, specifically the piano for adults. Some of these benefits include improved concentration and attention, stress relief, relaxation, memory enhancement, spatial task performance, linguistic capability, personal growth, enjoyment, aesthetic appreciation, musicianship, and fun.
Compared to other instruments, the piano is relatively easy for an adult to learn the basics quickly. It also has the largest repertoire of any instrument. Nowadays free sheet music for solo piano is readily downloadable from the Internet. Free tutorials on how to play popular songs are widely available on Youtube. This Internet Age of peer-to-peer sharing of music and tutorials has given a shortcut to learning an instrument, without having to start at an early age.
In a group situation, students can also learn from each other. The college format of group piano classes offers the adult learner a supportive social environment with peers to challenge and motivate. A group can provide a wider range of experience, discussion, critical listening, study of historical contexts, and collective decision making.
The traditional way of learning to play the piano is expensive for time-challenged and […]