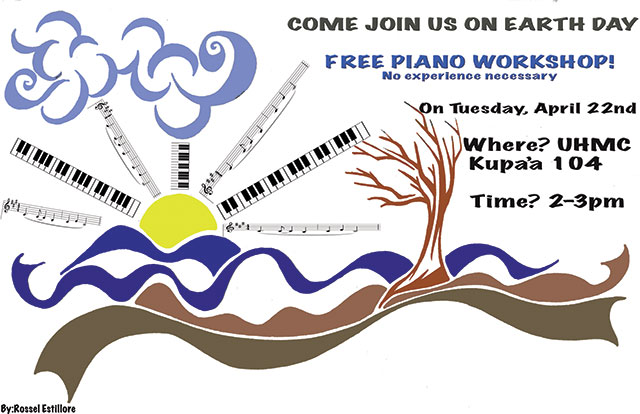 Poster designed by Rossil Estillore, of Harvey Reed's Design Class, UHMC
Did you know that Room 104 in the Kupa'a Building has more pianos than anywhere else on Maui?
It's the ideal place to learn to play piano in a group setting. It's social, dynamic, and fun! That's why musicians join rock bands, chamber ensembles, or orchestras.
Experience what it's like to play the piano in a FREE one-hour workshop. Here's what we learned in the last two workshops:
December 18, 2013: we played two pieces to official videos (John Lennon's Imagine and Pachelbel Canon to Vitamin C's Graduation Song)
March 21st, 2013: five piano students assisted eight members of the Inspired Teaching Committee (faculty and staff) to play all 88 keys on the piano
the chromatic scale using just three fingers
block and broken triads by crossing hands over each other
pentatonic improvisation to create a massive sound field
introduction to Black Eyed Peas' I Gotta Feeling
Next two workshops:
Tuesday April 22nd, 2014 from 2 to 3 PM celebrate Earth Day Jam — learn to play Iz's "Over the Rainbow" and other finger ballet. After the workshop, there's a break with snacks. You can stay and listen to live performances of current piano students as they prepare for their final recital.
Wednesday May 7th, 2014  piano concert from 5 to 6:30 pm.  Piano ensemble workshop from 7 to […]