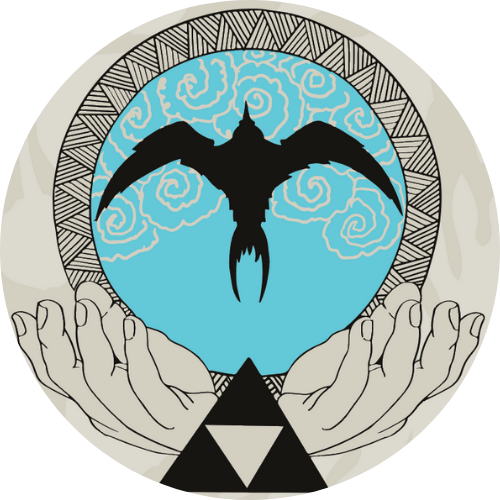 G.E.A.R. U.P. Maui
Gaining Early Awareness & Readiness for Undergraduate Programs
The GEAR UP Maui logo was designed by local Maui Artist, BRIAN CRISTOFARO who received the MANA'O one night looking at the stars over Maui.
The 'IWA BIRD symbolizes knowledge, navigation and freedom that knowledge brings.
The CROSS HATCHING honors our Kapa heritage and symbolizes the unconditional support of 'Ohana and community.
The OPEN HANDS symbolizes the maui team whose kūleana is to navigate and facilitate all he resources, opportunities & experiences available to the HAUMĀNA, their 'OHANA and KUMU in order to raise up, educate and support Maui's next generation.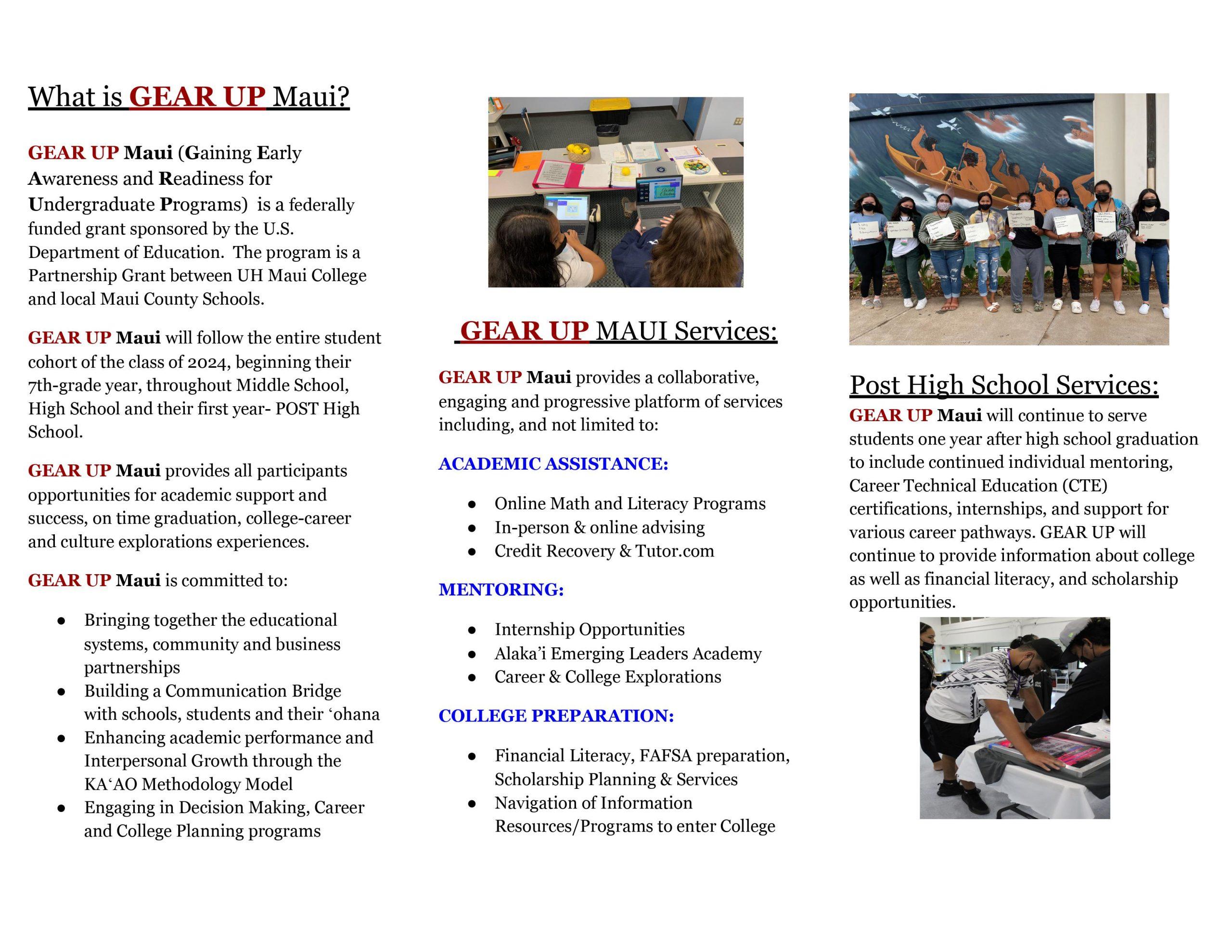 Click Here to download our brochure
HOW DO I SIGN UP?
Bringing together the educational systems, community and business partnerships

Building a bridge to communication with schools, students and their 'ohana

Enhancing academic performance and Interpersonal Growth

Engaging in Decision Making, Career and College Planning programs for students

Increasing and assistance parents with College/Career Resources including; not limited to Financial Literacy, Information and Program experiences
What Services Does GEAR UP Provide?
GEAR UP Maui provides collaborative, engaging and progressive platform of services beginning in Middle School, onto High School and throughout the students first year of college (Post Secondary Education) and/or Career Path.
ACADEMIC SUPPORT:
Math and Literacy

Dimension U (online learning services solution)

Tutor.com (online academic assistance)

During School Assistance

After School Tutoring and Assistance

Credit Recovery

Chromebook Loaner Assistance (See form above)

Senior Project Support
MENTORING:
Connecting High School to Career Internships

Alakaʻi Emerging Leaders Academy

Community Volunteering Experiences

Mentorship Program

Internship Opportunities

Kupukupu ʻIke Pono Career & Culture Speakers
Interested in becoming a mentor with GEAR UP Maui?
KUPUKUPU ʻIKE PONO
GEAR UP MAUI'S CAREER & CULTURE SPEAKERS
"Doing what is right by sharing knowledge in harmony"
Become a Workshop Speaker/ Presenter at events
Provide mentorship/internship opportunities
Record a message to cohort students (Encouragement, motivation to haumāna)
Presentation Workshop (Student Engagement, hands on learning by doing, Group visits, etc)
Speaker Panel (Industry drievn; I.e. Health and Wellness, The arts; Culture; Etc.)
Interested in becoming a mentor with GEAR UP Maui?
Community Volunteer Cost Share Form
UHMC/ RCUH Cost Share Form
COLLEGE, CAREER, CULTURE EXPLORATIONS:
Fall: Career & College Explorations/Excursions

Spring: Student & Parent Conference Experience

Summer: Super Student Summit-All Cohort

College & Career Experiences

College, Career, Culture Speakers/ Presenters

Spring 2022 College Credit Course

Community Organization Partnerships

Place Based Learning Experience
COLLEGE PREPARATION
Financial Literacy

Navigation of Information/Resources and Programs to Enter College

College & Career Club Programs and Events

Scholarship, Planning and Preparation Services

Summer Internships

FAFSA preparation, practice and final submissions

Early College Admissions

Training: KAʻAO Transformation Methodology (College, Career, Cultural Planning)
POST HIGH SCHOOL SERVICES:
During School Assistance

After School Tutoring and Preparation Assistance

Early College Admit- Summer Courses during High School

CTE Information, Resources, Programs and Certifications

Career Explorations & CTE- Career Technical Education Certification

Summer and Break Internships

Workforce Preparation
Upcoming Program Activities & Opportunities
ALAKAʻI EMERGING LEADERS ACADEMY
PURPOSE
Empowering students with "CLASS" – Community, Leadership, Achievement, Services and Strength by expanding their understanding of academics, career and college advancement. This will be conducted through classroom experiences, community engagement, research projects and the sharing of this learning experiences with peers either through media venues, in person presentations or both.
The ALAKA'I EMERGING LEADERS ACADEMY is a ''CLUB STYLE"- we are in the process of setting up the program as an official club of MHS- whereby the students run the show! They will grow their leadership and communication skills; learn decision making and Goal Setting; gain information on Conflict Resolution, Financial Literacy and explore Culture/Career and College opportunities as well as make new friends with other students across Maui & Hawaii!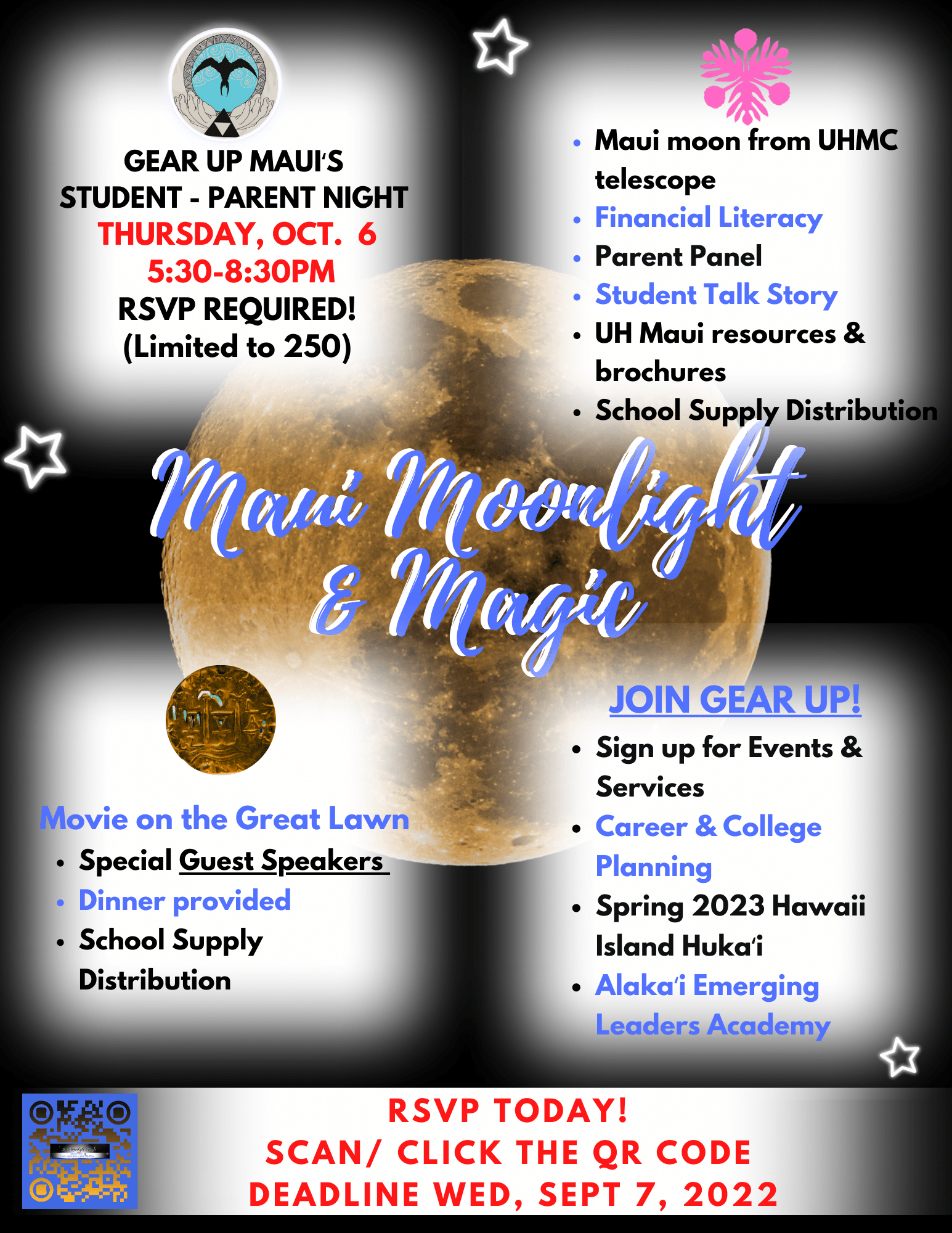 Maui Moonlight & Magic Event!
We are so excited for you to be joining us for our first ever MAUI MOONLIGHT AND MAGIC Event! This STUDENT- PARENT night will show you a different side of the moon on THURSDAY, OCTOBER 6th from 5:30-8:30pm @ UHMC.
We have a great fun filled night with various resources, services, community partners and opportunities for both you and your student!
Retrieve your "GOLDEN TICKET" for upcoming events and services
Connect with other cohort parents and students
Save some time & money with our school supply distribution
"TALK STORY" with former students from YOUR school and community
Dinner provided by local Maui Food Trucks
Win awesome prizes!
SO MUCH MORE!
*** Space is limited to the first 250 STUDENTS & PARENT***
How do YOU RSVP for YOUR seat?
DOWNLOAD the event flyer --> HERE
Scan OR click on the QR code on the flyer
COMPLETE the Google Form
THATS IT!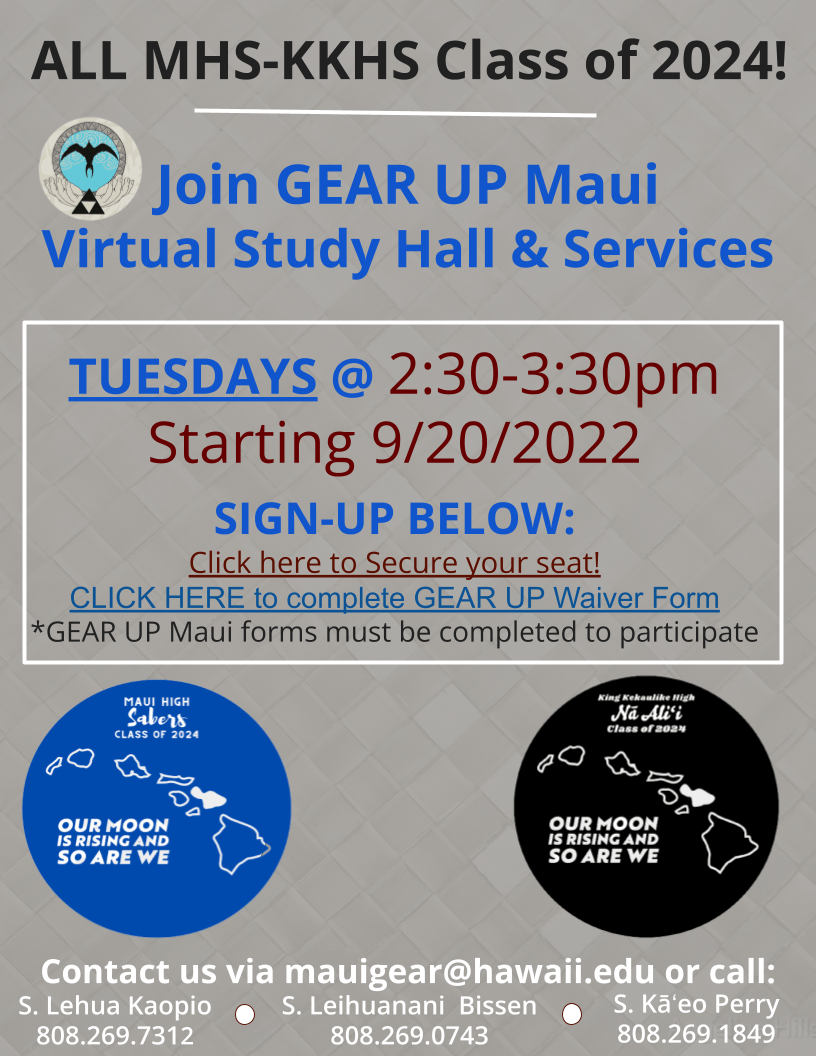 ---
---
Upcoming Program Activities & Opportunities
---
---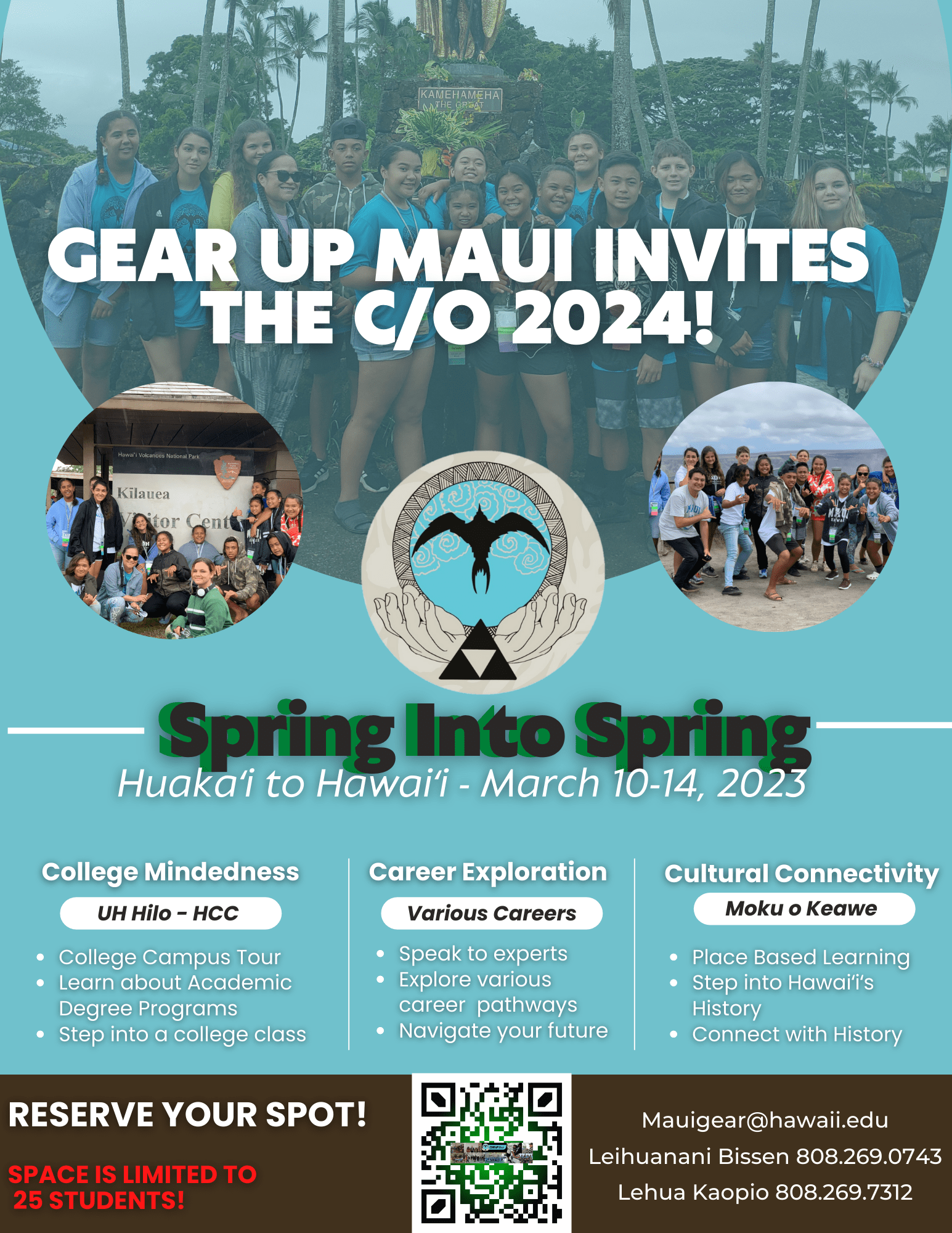 ---
"TAKE A LOOK" GEAR UP's Memory Lane
Follow us on Social Media!