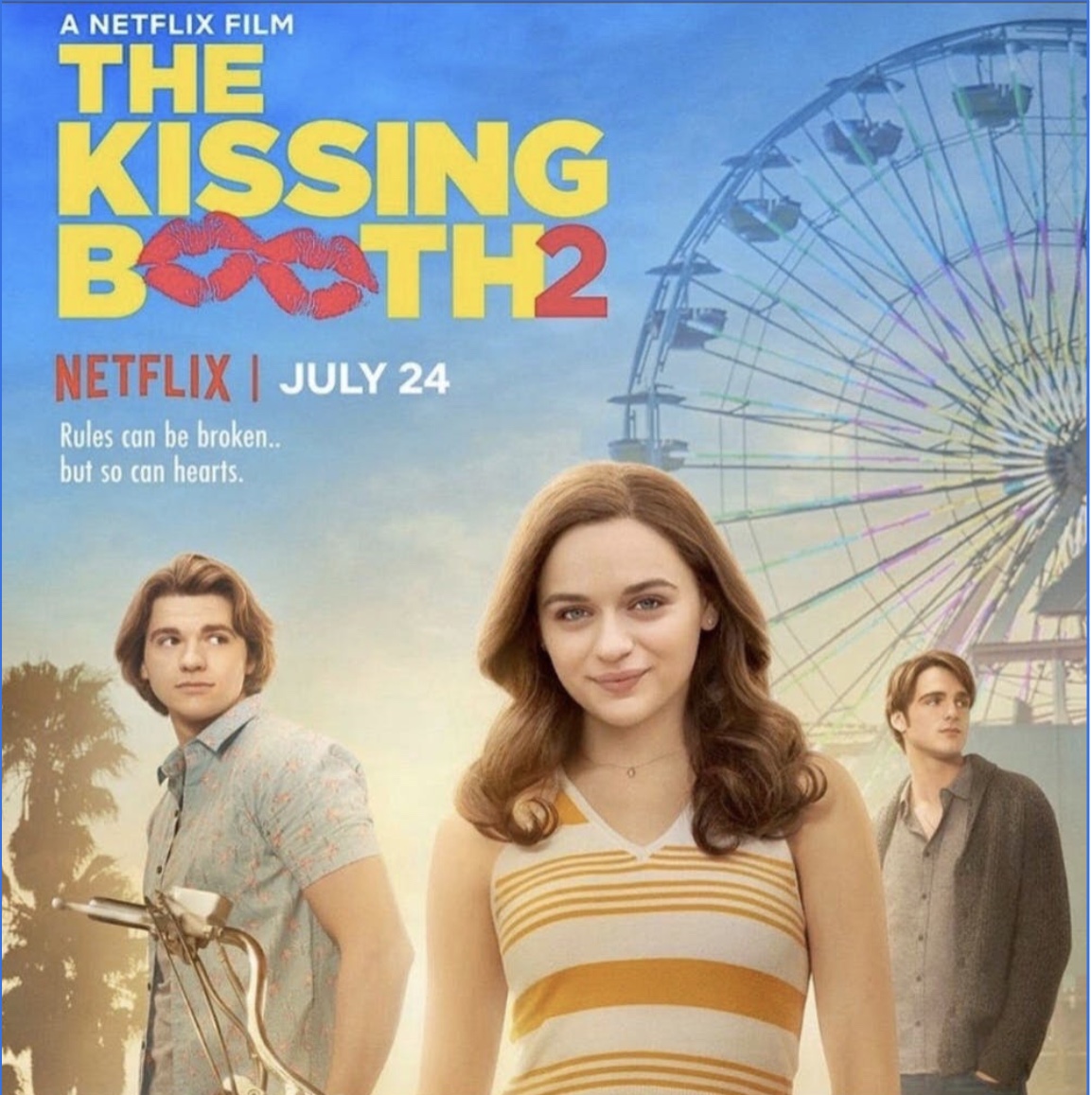 If you haven't seen The Kissing Booth which premiered in 2018, I highly recommend you watch it on Netflix which is streaming now. The sequel is a continuation of the first movie which includes two new characters, Marco and Chloe. Relationships are tested, and teen romance mingles with relatable real-life issues.
A high school senior Elle Evans (Joey King) is in love with Noah Flynn (Jacob Elordi) but when he goes to Harvard University, their entire relationship is challenged by another female, Chole Winthrop (Maisie-Richardson-Sellers). Elle Evans' then gains a new romantic interest, Marco Valentin Pena. He's the new transfer student, a musician and athlete. This is the second installment of the book series by Beth Reekles that premiered on July 24, 2020. I stayed up til midnight, and the minute it came out was the highlight of my week. I was extremely impressed with the entire movie. Who does Elle choose, Noah or Marco? Team Noah or Team Marco? Berkeley or Harvard? Follow friendship rules!
The beginning of the sequel starts the summer before Noah Flynn left for college then moves to Elle Evans first day of senior year. Classmates were whispering to each other about Noah Flynn breaking up with Elle due to befriending an attractive woman, which causes jealousy and insecurity. Then, a few weeks later, Noah surprises Elle by inviting her out to Boston for the weekend and quality time with each other. Little does Elle know she'll be meeting Chloe Winthrop and the real purpose of the trip was to see Noah, do her college interviews, and get to know Chole Winthrop. As Elle was leaving, she found an earring under Noah's bed and stormed out of his room suspecting it belonged to Chloe.
Upon returning to Los Angeles, Elle starts preparing for Dance Dance Mania, a competition to be able to afford Harvard. Elles father, Mr. Evan (Stephen Jennings), is a single father. Brad, Elles Youngest brother, explains that he won't be able to pay for her tuition. Lee Flynn (Joel Courtney), Noah Flynn's younger brother and Elle's best friend offer to help her with the competition but he suddenly "fakes" a sprained ankle in order to focus on his relationship with Rachel (Meganne Young) and recruits a replacement, Marco Pena. At the Halloween party, friends Elle and Lee dress up as ghostbusters while Rachel wears a Marshmallow costume, the original costume for the trio. Elle starts dancing with Marco Pena and in the midst of dancing, the pair almost share a kiss but Elle is quickly reminded by the OMG's- Olivia, Mia, and Gwyneth (Bianca Bosch, Zandile Madliwa, and Camilla Wolfson) that she has a boyfriend.
On the day of Dance Mania, Elle and Marco win the competition with one of my favorite songs "Lost in the wild" by Walk the Moon. Unbeknownst to Elle, Noah is in the audience when Marco and Elle share a kiss. This upsets Noah. Later, the intensity at Thanksgiving Dinner with Flynn and Evan's Family is felt. Lee is mad at Elle for not telling him she applied to Harvard, Elle was mad at Noah for being dishonest about Chloe's earring, and Rachel was mad at Elle as well. That same night, Chloe admits to Noah how the earring got under his bed. Elle and Lee reconcile and start preparing for the Homecoming event and The Kissing Booth.
My favorite part of the movie? Elle is on the loudspeaker and talking about Marco's abs and referring to him as "a snack". Lee falls down multiple times when trying to stop Elle from saying more. The most inspiring part is when Elle revisits her college essay which asks, "What I want to be in 5 years?"
Furthermore, TKB3 The Kissing Booth 3, is coming in 2021. It was already filmed in South Africa while filming TKB2! Stay tuned for the release on Netflix! TKB and TKB2 is streaming now on Netflix!