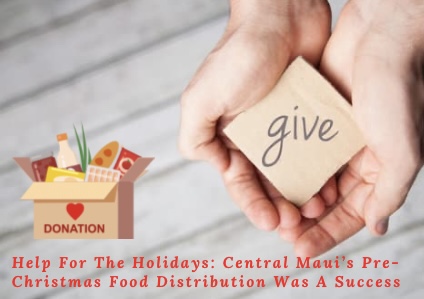 The holiday season for many Maui residences was a trying time, especially during the national pandemic. Making ends meet had been a rollercoaster ride for many but thanks to Maui's many charity organizations, we were able to receive the help and support we needed. I was grateful to receive the Saturday (December 19, 2020) just before Christmas. A Central Maui food distribution took place at War Memorial Gym parking lot in Wailuku. The food distribution event was open to the general public and was held from 9 am to 1pm on a first come first served basis. This was my experience.
We arrived at a little past 9am and the cars had already started to line up. The traffic flow was smooth and fairly quick, it was no more than a 10 minute wait. When we approached the distribution tent, we were greeted by warm welcomes that really seemed happy to serve the community. Safety precautions were taken and we were given a generous box of canned goods and a tray of frozen chicken. This was perfect for a delicious home cooked holiday meal. The operation was seamless and we passed through with ease. They wished us a Happy Holiday and Merry Christmas, and I left feeling humbled by gratitude.
I could tell the food drive would be a success by the number of vehicles that received boxes and trays of food. Thus, this helped provide many meals for the residence of Central Maui. Melia Mattos and Melissa Kunitzer from our UHMC One Stop Career Education Resource Center enabled this possibility for me by sending the announcement to my husband and I. We've been participants of the Resource Center even before covid and these ladies always remain helpful and supportive even after we complete the programs. Emails are always sent to connect student participants to community resources whether it be food vouchers to the Pastele House, Food Bundles from the Food Bank or a simple alert for community resources. Mahalo all the community workers for your time, efforts and aloha!