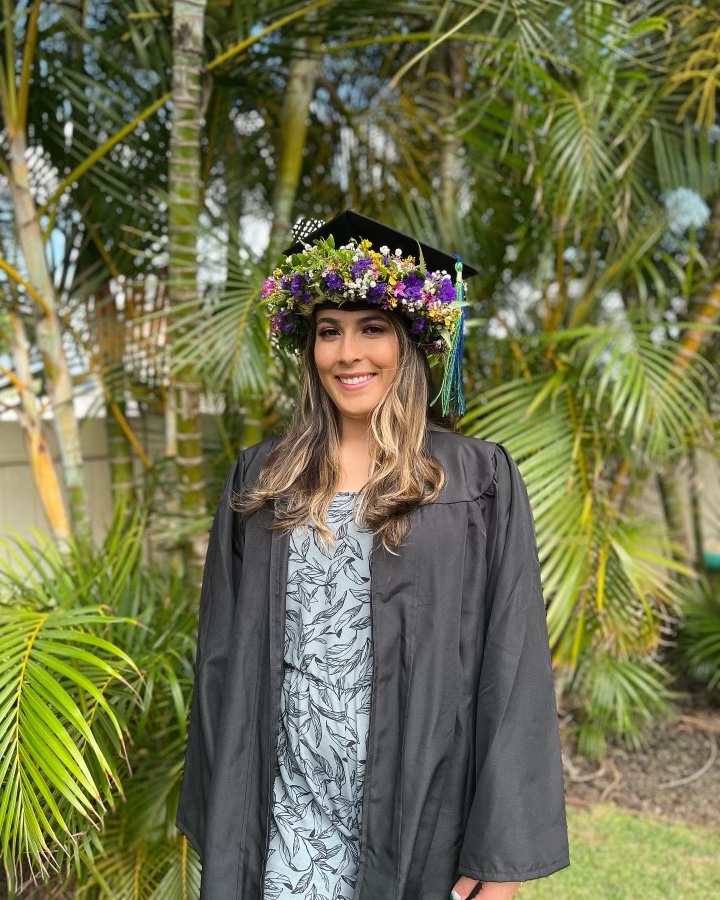 Haumana Highlights: Challenges, Triumphs, and Virtues With 2022 Graduate Sheena Obregon.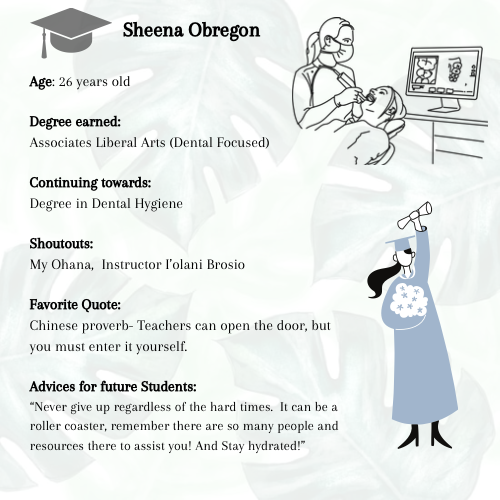 Ho'omaika'i to all you awesome, hardworking, obstacle-overcoming graduates of 2022! This season of grads was especially triumphant due to the fact that they made it through the thick of a pandemic. The many ups and downs, shifts and turns, closures and illnesses did not stop the class of 2022 from achieving their goals in higher education. This haumana highlight features graduate Sheena Obregon, the first in her family to earn a degree in higher education. She earned an associates in Liberal Arts with a focus on Dental Hygiene. In these recent turbulent times, it was nothing short of triumph.
Sheena Obregon is a 26 year-old life-long Maui resident whose familial roots go back all the way to the plantation days of Puunene. She was born at Maui Memorial Hospital and graduated from Baldwin high school. After high school, and with the encouragement of her parents, Sheena sought to pursue a career in healthcare. After initially considering nursing, she was eventually drawn to Dental. She began pursuing an associates in liberal arts in 2019, while simultaneously working full time as a dental assistant.
Sheena overcame the many difficulties and challenges she faced, and had many high points as well. Pursuing a degree during a pandemic was stressful. She spent many long days working as a dental assistant and then studying at night and on weekends. Making the shift from in person classes to learning how to attend virtually online was a challenge, but she was able to make the changes needed. She learned the virtue of patience most while engaging with students online, and enjoyed being helpful when other students needed assistance. She recalled the high points of her time spent at UHMC which initially started in 2014. It had been a long road, one that brought lasting relationships, and many friends turned into family. She reflected on one momentous semester when she achieved all A's while still working full time. On a personal note, she even got engaged.
Sheena will now continue her educational journey across the sea, in the state of Arizona. She will attend Pima community college, as her next step is to pursue a degree in dental hygiene. She is so grateful for the support of her family and friends in achieving her goals. Sheena mentioned gratitude for Instructor I'olani Brosio for being a positive, supportive and compassionate source for her and the other students.
Going forward Sheena feels proud to now go into the world and represent her family and community as a born and raised Hawaii resident. She feels strongly about spreading kindness and compassion, the virtues of island culture that have stuck with her throughout her life. Sheena intends to spread aloha as she continues towards her next chapter in higher education. She hopes to be an example that island people achieve great things and can go far in this world. She is now ready to grasp the opportunities that broader horizons have to offer, but will remain forever grateful for the humble beginnings, enlightenment, and faithful connections that happened here at UHMC.