The A.S.C in Hawaiian Music offered by the Institute of Hawaiian Music includes courses in music offered by Music Studies faculty at UH-MC, courses in Hawaiian language and culture taught by the Hawaiian Studies faculty.
Dr. Keola Donaghy  (personal website)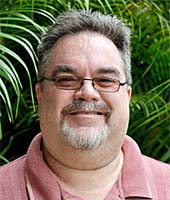 Dr. Keola Donaghy is the faculty coordinator of the Institute of Hawaiian Music, and also coordinates Music Studies at UH-MC. He holds a B.A. in Hawaiian Studies and M.A. in Hawaiian Language and Literature from the University of Hawai'i at Hilo, a Graduate Certificate in Telecommunications and Information Resource Managmement from UH-Mānoa, and a Ph.D. in Music (ethnomusicology focus) from the University of Otago in Aotearoa (New Zealand). His is a member and former governor of the Hawai'i Academy of Recording Arts, an active member of The Recording Academy, Society of Ethnomusicology, International Council of Traditional Music and The British Forum for Ethnomusicology.
Keola is a prolific haku mele (composer of Hawaiian poetry), whose compositions have been recorded by Keali'i Reichel, Kenneth Makuakāne, Kainani Kahaunaele, The Pandanus Club, The De Lima 'Ohana, O'Brian Eselu, Patrick Landeza, and Steven Espaniola. His co-composition "Aloha Keauhou" (with Makuakāne) was performed by the senior women at the 2012 Kamehameha Schools Song Contest. He has received numerous nominations for the Nā Hōkū Hanohano Awards as a composer, producer, and liner note annotator.
Keola is the Faculty Coordinator of the Institute of Hawaiian Music, and teaches Hawaiian and world music, music theory and applied music.