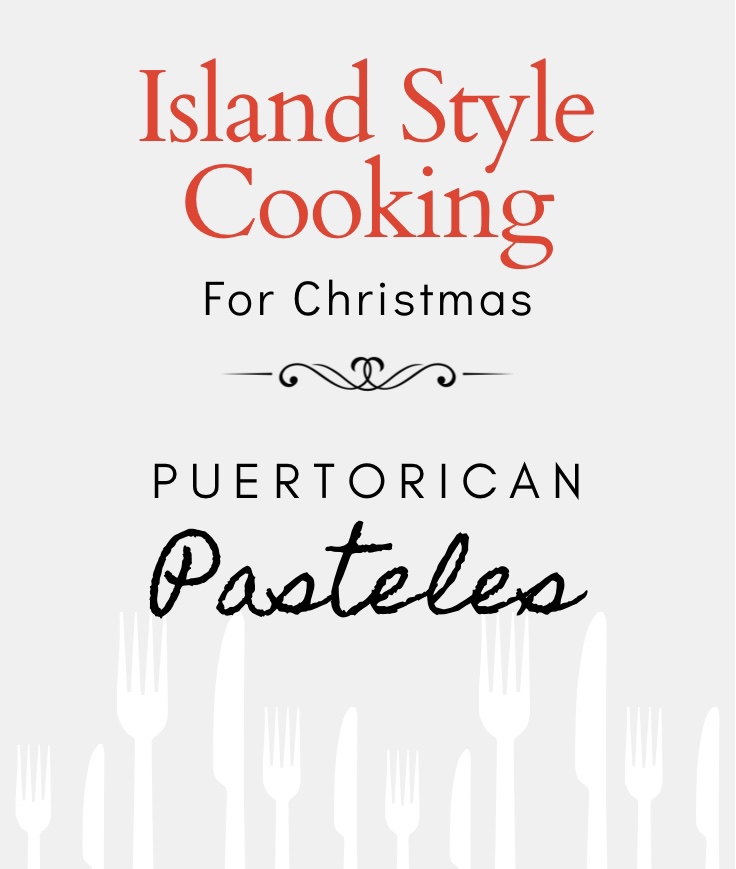 It's the Holiday season in Hawaii and oh what fun it is to grind! Multicultural Maui families will be cooking up and feasting on various cultural island dishes we all know and love. I'm Hawaiian, English, Puertorican, Portuguese, and from my Puertorican side, I want to highlight a Puertorican dish eaten here all year around, but traditionally made during the holidays. I've eaten this dish throughout my life-it never gets old and I can eat it all the time. Traditional Puertorican Pasteles are on the menu for me, and many Maui foodists in our island community.
Pastele are a type of tamal made with an adobo pork stuffing encased in a green masa made of plantain, green bananas, and root vegetables and wrapped in banana leaves. Although time-consuming and labor-intensive, pasteles are worth the effort. My grandmother would make these on special occasions and every Christmas we'd get to feast on pastele paired with traditional Puertorican rice- Gandule rice. Pasteles are savory and moist and flavored with achiote. They look similar to a tamale except the masa is banana, not corn. Pasteles resemble my childhood, of growing up in Makawao where my grandparents have lived for over 50 years. This holiday I decided it was time for me to carry the tradition and learn to make them myself. Everyone loves to get a pack of pasteles for Christmas, and with the current state of our world, I thought food would be the best gift to give during a pandemic.
It's well-known that pasteles aren't easy to make. Usually it takes a family assembly line, or at least two people to really get the job done right. Making pastele alone is definitely a job for pros. The first thing I had to do was purchase a device to turn the green banana and plantain into masa. My grandmother normally uses her food processor but it's seen its last days. If you plan on making pasteles be sure to purchase a heavy-duty device because it'll be putting in hard work for sure. I opted to purchase a handy and sturdy compact immersion blender, which I ordered online from Amazon. This $99 immersion blender did not disappoint. My grandmother commented on how lucky we are, that in her day they grated the bananas by hand with metal graters. But now, we were finished in two shakes. Even with modern tools, an hour of blending made my arm ache a bit.
My grandmother and I knived off the plantain and banana peels and soaked them in a large bowl of water. Then we chopped them up small and blended them into a paste, using water as needed to soften. The results were large ziploc bags full of creamy masa, which we froze for the time being. My grandmother previously chopped up the pork, and it too was stuffed into large ziploc bags and frozen. It's imperative that components of the pastele are made in advance in order to avoid becoming overwhelmed with too many arduous tasks at once. Finding green bananas was initially worrisome. Now that it's December in Maui, you can bet that pastele makers island wide are searching for and buying up this green gold. Thankfully, I work part-time at a grocery store and was able to grab what I needed straight off the morning delivery pallet.
When It gets closer to Christmas, we will take the next steps of cooking the filling, and creating and wrapping the pastele with banana leaf, parchment paper and string. I plan on making the traditional pork pasteles for everyone on my gift list but as for me, I'm going to try out a veganized version. It'll all be the same except I'll use a meat substitute. When the time comes to eat pastele, they should be boiled in a pot for 45 minutes.
It's so great and so important to be able to learn from our kupuna, to carry on traditions and pass them down to our keiki. This time of year, and all through the year we are so lucky to be able to embrace our heritage, no matter how many ethnicities we are blended with. Island life and Island style living is a gift that we as native residents cherish and love to share with others. This will be my first time making pastele but not my last, and I too will be passing the tradition along to my teenage daughter. This Christmas, give a gift of delicious home-cooked cultural grinds made with Aloha. Mele Kalikimaka and a happy new year!