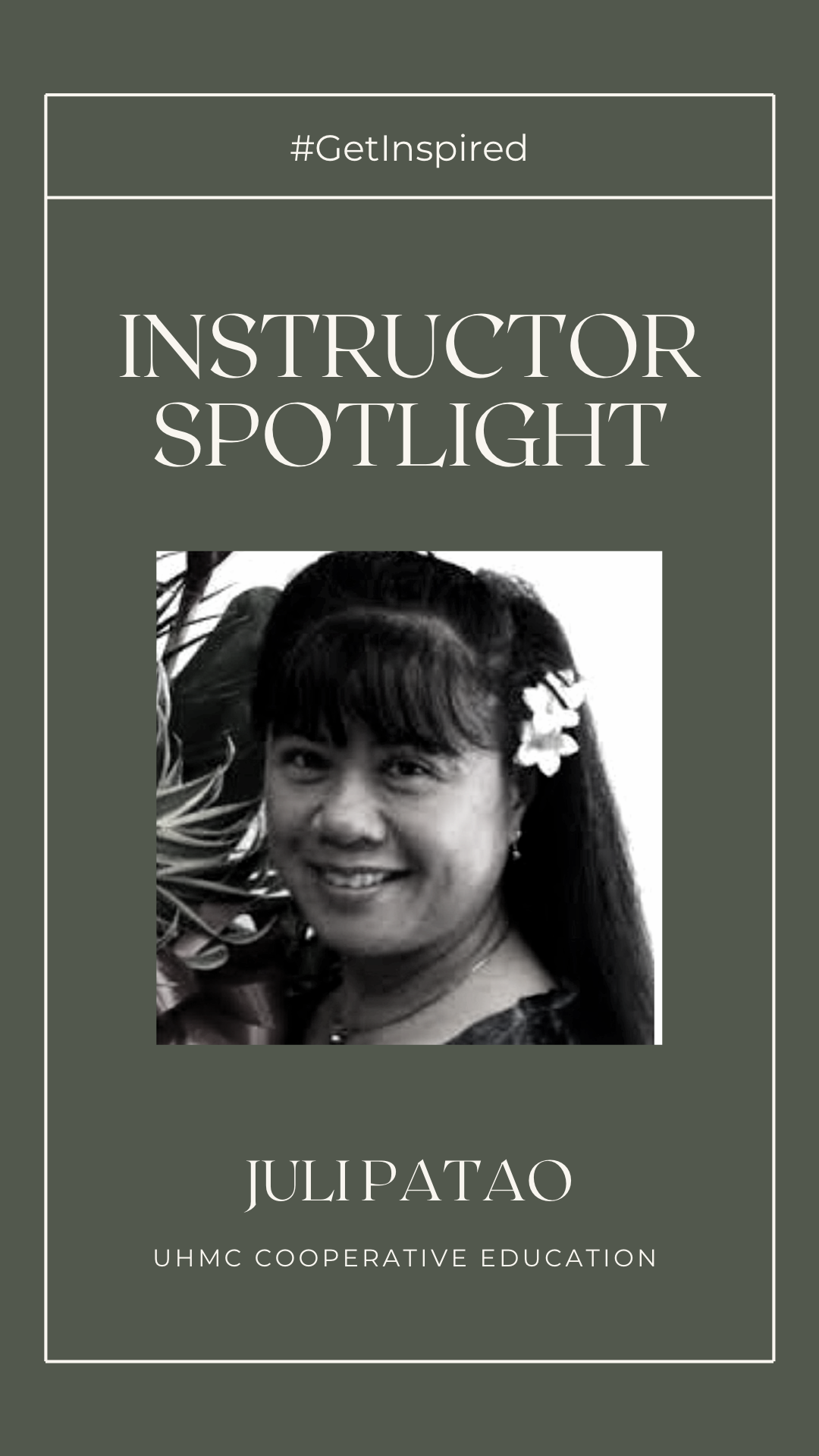 The University of Hawaii Maui College offers a diverse variety of staff and faculty members who guide us young men and women to success. Students can gain a lot during their time at our college by getting to know and utilize these connections. Among these individuals is Juli Patao. For Juli, this August will be 10 years of teaching at University of Hawaii Maui College. Her role at UHMC is an Assistant Professor of Cooperative Education. is a work-based learning experience in the student's academic field of study, which students gain course credits towards their major. Juli is also CareerLink Director, in which she oversees our campus career center and provides assistance with career resources and employment preparation.
A typical week for her is filled with appointments throughout the day. Juli says that seeing students gain confidence in their skills and abilities upon completion of their internship experience is her favorite part of this job. On the other hand, there are challenges as well. Insufficient staff due to budgetary restrictions is one of them.
Juli's advice to students on how they can improve academically is to work in one's field of study or gain skills in the area one is interested in developing towards career goals. It helps to build a resume showing skills in that area since employers normally require 1-2 years of work experience. Students can also get involved in their community and be a change agent to make a difference or support a cause. This helps to build a network that could also lead to future opportunities. Overall the advice she gives students is to get involved, and ultimately visit CareerLink for assistance to prepare for the workforce. Juli shared an inspirational quote from her role model, James J. Donovan III (Jim), former UH Athletics Director, and current Cal-State Fullerton Athletics Director. "Enjoy your life and Do your best." Juli says he has taught her so many gems over the years.
Juli shared a memorable moment she experienced during her career here.
" Seeing a Maui High School student that I provided his Mock Interview as a Sophomore, attend UHMC and become an AJ student, who recently got accepted into MPD Training. He said it was my interview intervention that led him to change his thoughts in high school from desiring to become an NFL star to finding a career of focus here on Maui. CareerLink used to be located on the ground-floor of Ka Lama Building across from the restrooms, we have since moved to the Laulima Building, Room 101 — directly across the swap meet area. We provide students career resources to prepare them for their future and assistance with resume, cover letter development and mock interviews. Cooperative Education (internships) Program is a primary source of connecting students with their careers as specific academic programs require Coop in order to graduate. Programs such as: AJ, BTEC, ETRO, and CTEC as other programs allow Coop as an elective: ACC, AG, BUSA, LBRT, and ABIT."
In closing Juli described UHMC in three words. Supportive because faculty and staff are so eager to help our students succeed. Effective because the cost per credit for students is the best value for higher education in comparison to other campuses and quality because programs prepare students for their future with the ability to network with professionals in their discipline. Juli teaches Cooperative Education Internship program in the fall, spring, and summer semesters with the class, dates, and times varying, the course is about financial education, career assessments, employer benefits, union/non-union organizations, how to job hunt, best tips from an HR perspective.