Hours & Appointments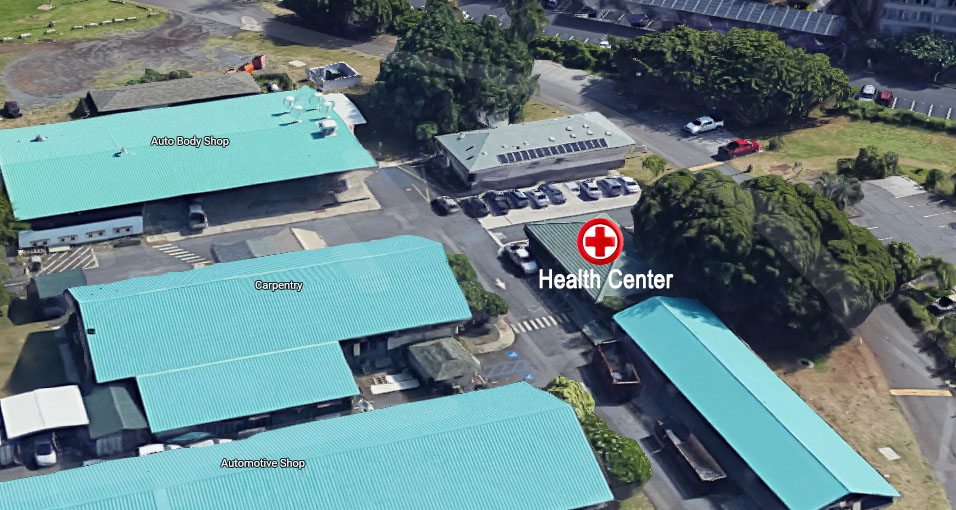 Hours of Operation
Monday-Friday: 9:00am – 4:00pm
Appointments are Recommended
Phone: (808) 984-3493
Email: healthct@hawaii.edu
Location: Health Center is located behind the       Carpentry Building
After Hours Medical Care - For major life threatening situations please call 911.
Campus Security can be reached at (808) 984-3255.
For mental health emergencies, call the Suicide & Crisis Lifeline at 988.
OUR TEAM
Community Health Worker: Leslie Watson, MA, CHW
Nurse Practitioner: Hannah Litt, MS, APRN, CNM
Nurse Practitioner: Konstantina Rose, MSN, APRN-BC
Nurse Practitioner: Kathleen Hagan, MS, APRN-BC, CNE
We're here to serve you!
Our clinic provides high-quality, low-cost medical care and confidential family planning services.
Services
Campus Health Center Eligibility
Current UHMC students, faculty, and staff are eligible for services. Family planning services are open to community members ages 14+.
Insurance
Most non-HMO insurance payers are accepted. We can assist students to obtain health insurance. We also have programs that may reduce or cover the cost of your care. Many UHMC students will qualify for state-funded health insurance and Imua Family Services will help with the application process. Click on the link, or call (808) 244-7467 and ask for the healthcare navigator program.
Appointments Including Virtual Visits
To schedule an appointment, call (808) 984-3493. Please call if you are unable to keep your scheduled appointment. Some appointment types can be done as a convenient video visit (birth control, PMS/PMDD, PCOS, etc.).
General Medical Clinic
Visits for minor illnesses and injuries • Physical exams for nursing, dental and other students who need them for their programs.
Annual Exams and Family Planning
Screening for cervical cancer • Screening for testicular cancer • Breast and pelvic exams • IUDs, Oral contraceptives, Depo-Provera,
Nexplanon, Plan B, condoms, and more • Pregnancy testing and referral • STD counseling, screening and treatment • LGBTQIA+
inclusive.
Immunizations and Health Clearances
Measles-Mumps-Rubella • Tetanus-Diphtheria-Pertussis • Flu Vaccine Hepatitis A and B • HPV (Gardasil) • Varicella • TB screening/testing.
COVID-19
Testing and vaccinations. Offering Pfizer bivalent booster since September 2002.
Mental Health Services
Holistic management includes mental health, physical, diet, hormonal, and lifestyle evaluations. Medications, genetic testing for m ion management, therapy, and alternative services are offered.
Smoking and Vaping Cessation
Counseling and nicotine replacement therapy.
Menstrual Supplies
A free month's supply of pads, tampons and more is available for pickup anytime during office hours thanks to our partnership with the
Ma'i Movement Hawaii.
UHMC Registrar's
Health Clearance Form
UHMC Registrar's
Health Clearance Requirements
UHMC Nursing
Health Clearance Forms
UHMC Nursing
Health Clearance Forms