2023 Kama'āina Fast Application
We know that applying for college can be overwhelming. So, we created a shortened Kama'āina application which allows for a faster completion time just for you. Available for Hawaii High School 2023 graduating seniors and early college students only.
GRADUATING HAWAII SENIORS APPLY HERE
EARLY COLLEGE STUDENTS APPLY HERE
Admissions Office Contact Information
Mailing address: Admissions & Records, University of Hawaiʻi Maui College, 310 W. Kaʻahumanu Ave, Kahului, HI 96732
Student Right to Know / Consumer Information
Take the first step, it's easy!
Admission Application Periods
NOW TAKING APPLICATIONS FOR THE SPRING 2023 SEMESTER
| Semester | Application Period* |
| --- | --- |
| Fall (Aug - Dec) | September 1 - August 1 |
| Spring (Jan - May) | August 1 - December 15 |
| Summer (May - Aug) | January 1 - July 1 |
Rolling Admissions Policy:
*Above are some of the established deadlines for each semester, however we have a rolling admission policy.
Application Fee
1. How to Apply
Follow Steps 1.1–1.3 below:
1.1 Before You Apply
Applicants must be:
Not currently enrolled at any of the UH system campuses.
Applicants must be:
First-time college students
Returning students (Welcome back, the last semester you attended school was at UH Maui College).
Transfer students (the last semester you attended school was with another institution and not at UH Maui College).
Or an Early Admission or Running Start student (a high school student admitted under the Early Admission or Running Start program).
Please note that admission to the College does not mean automatic admittance to all programs or courses.
1.2 Residency Status
Your residency status determines whether you will pay Resident or Non-Resident Tuition & Fees.
If you do not qualify as a bona fide resident of the State of Hawai'i, according to the UH regulations in effect at the time you register, you must pay nonresident tuition for your classes. Non-residents must also pay a $25.00 application fee. Compare Resident costs vs Non-Resident costs on the Tuition & Fees page.
Residency status will be determined at the time of application. You may be required to provide verifying documentation. Read residency requirements here.
1.3 Apply Online on the UH System Application Form
Application Form
All University of Hawai'i campuses use the same System Application Form for undergraduate enrollment. It should look like this below. You'll create an account, then you can start your application.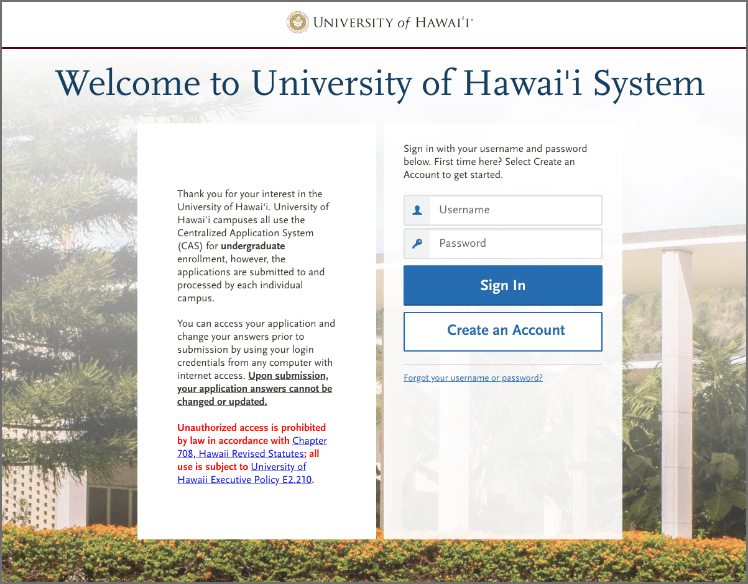 Ready to start your online application?
Next Steps: Onboarding
After you have finished all of the above, you can: